On March 2, Chinese President Xi Jinping inspected the scientific research on the novel coronavirus disease (COVID-19) as well as the diagnosis and treatment of the disease in his visit to Tsinghua University.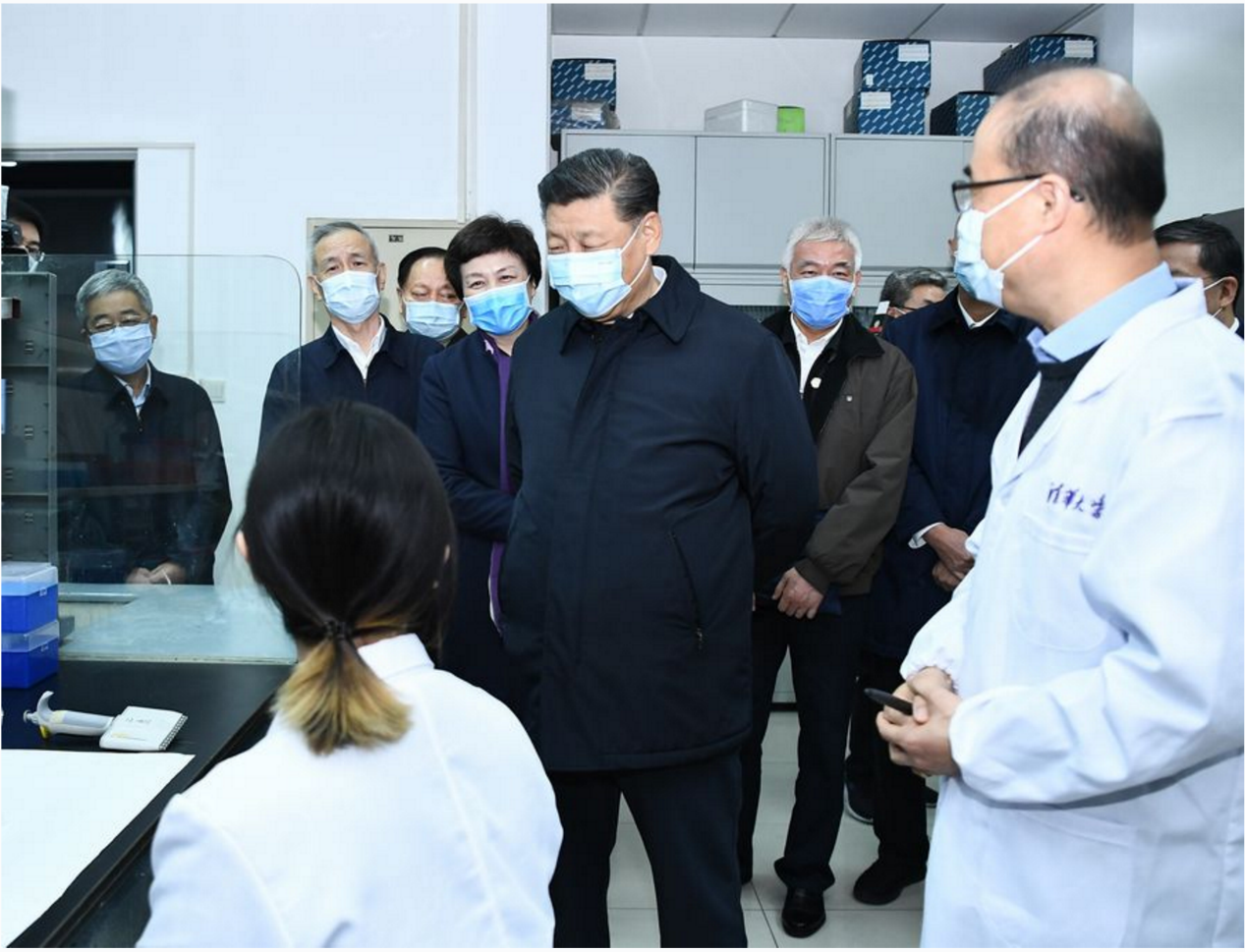 Tsinghua launched a pilot research program for virus prevention. Over 70 research project applications have been received since January 30.
Research continues in advancing basic medical research and vaccine research, with a focus on assisted diagnosis, assisted medical care, and new test kits and equipment.
On March 13, the 18th Symposium on Scientific Research was launched, focusing on innovation in research models. The Symposium also stressed that COVID-19 research must be taken as a major and pressing task.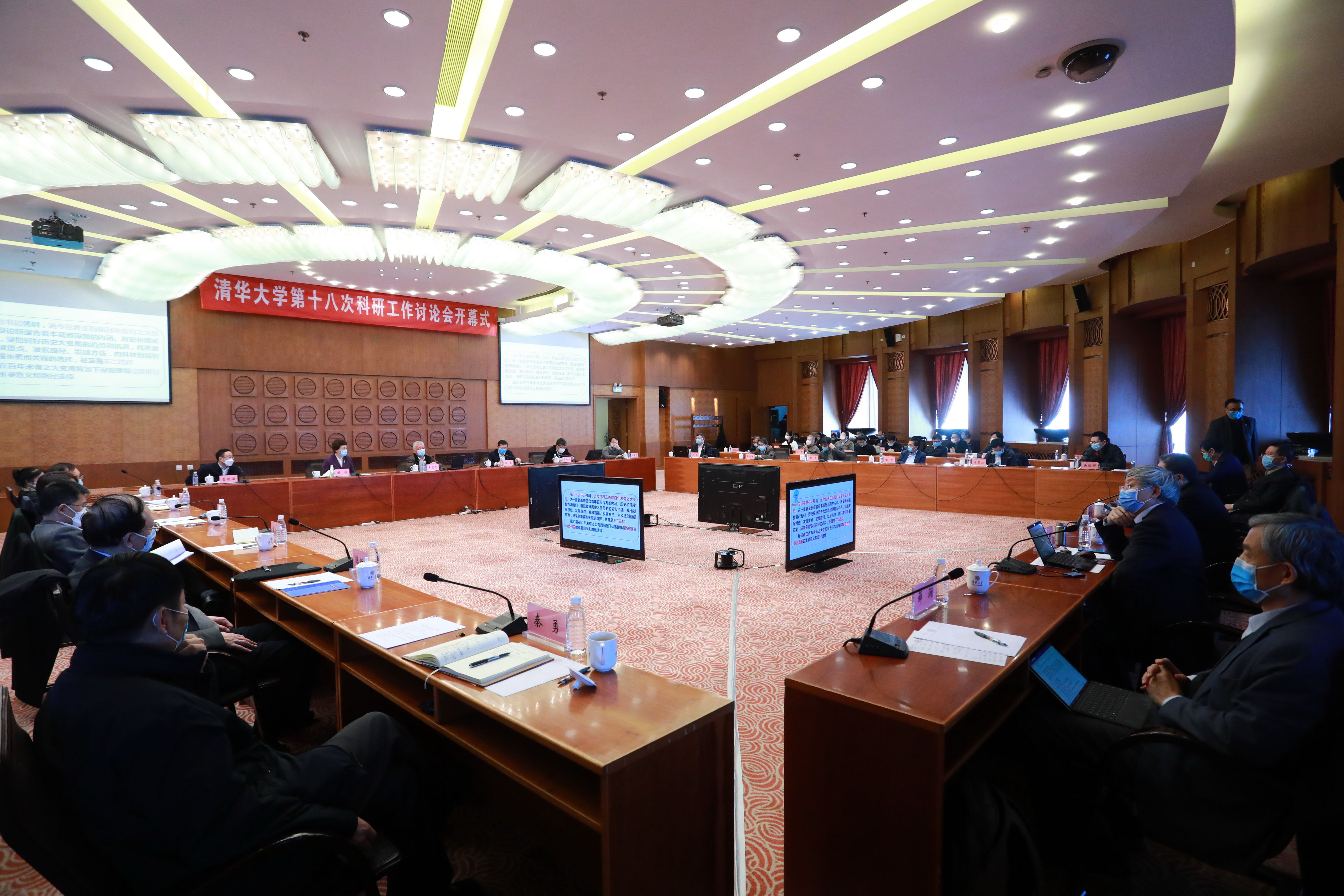 COVID-19 antibody and vaccine
Research teams led by Professor Zhang Linqi from the School of Medicine have been identifying neutralizing antibodies from convalescent patients and developing safe and effective treatments for COVID-19. Together with Professor Wang Xinquan from the School of Life Sciences, Professor Zhang resolved the crystal structure of COVID-19 RBD in complex with receptor ACE2, providing structural insight and identifying the precise target for vaccine design. In collaboration with Dr. Zhang Zheng at the Shenzhen Third People's Hospital, Professor Zhang and his team have isolated several potent human neutralizing monoclonal antibodies from recovered patients, providing promising candidates for antibody-based prophylactic and therapeutic intervention against COVID-19.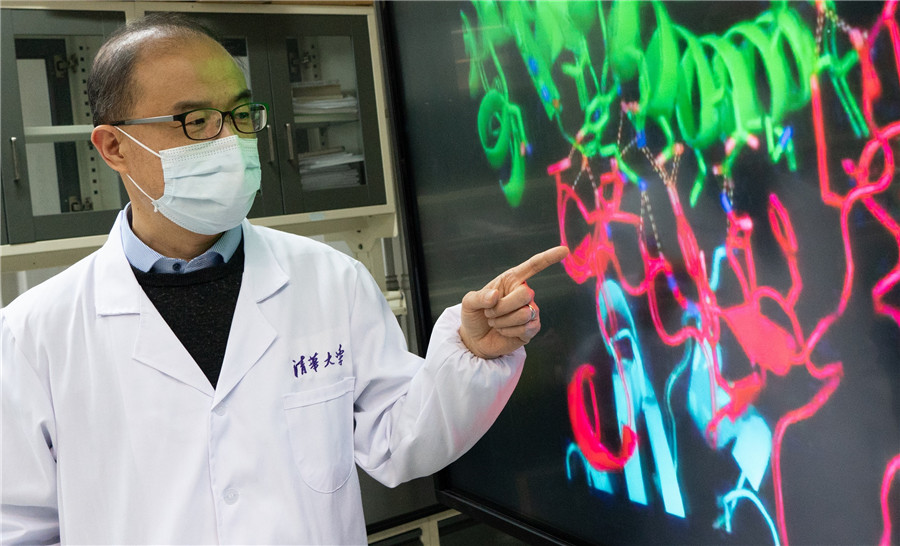 Uncovering COVID-19 replication/transcription machinery
Professor Rao Zihe's team and Shanghai Tech University's team were the first in the world to decode the exact architecture of the RdRp-nsp7-nsp8 at the atomic level, uncovering the RNA-synthesis machinery and providing a basis for drug development.

Understanding human adaptive immunity to SARS-CoV-2
Professor Dong Chen's team collaborated with Chui Yang Liu Hospital, which is affiliated with Tsinghua University, and the China Academy of Military Medical Sciences to analyze blood samples from discharged COVID-19 patients. They found that both humoral and cellular immunity participate in immune-mediated protection to viral infection. However, two-week-post discharged patients exhibited high titers of IgG antibodies, but with low levels of virus-specific T cells. This study lays the theoretical foundation for the diagnosis and traceability of infected patients as well as the development of therapeutic antibody drugs and vaccine research.
Providing drug discovery capabilities and resources
The Global Health Drug Discovery Institute (GHDDI) and Tsinghua's School of Pharmaceutical Sciences joined forces to provide drug discovery capabilities and resources to all researchers working on COVID-19 treatment, accelerating the process of drug discovery for this deadly viral disease.

Respiratory virus nucleic acid detection kit
Professor Cheng Jing's team worked with the West China Hospital of Sichuan University and CapitalBio Corporation to successfully develop the Respiratory Virus Nucleic Acid Detection Kit (Isothermal Amplification on Disk Chip), the first in the world to detect six types of respiratory virus simultaneously within 1.5 hours. The kit, which includes SARS-CoV-2 among the six viruses, provides patients with quick and accurate diagnosis. Soon after National Medical Products Administration approval, Tsinghua provided Wuhan with four sets of testing equipment and donated testing chips and reagent for 12,000 persons.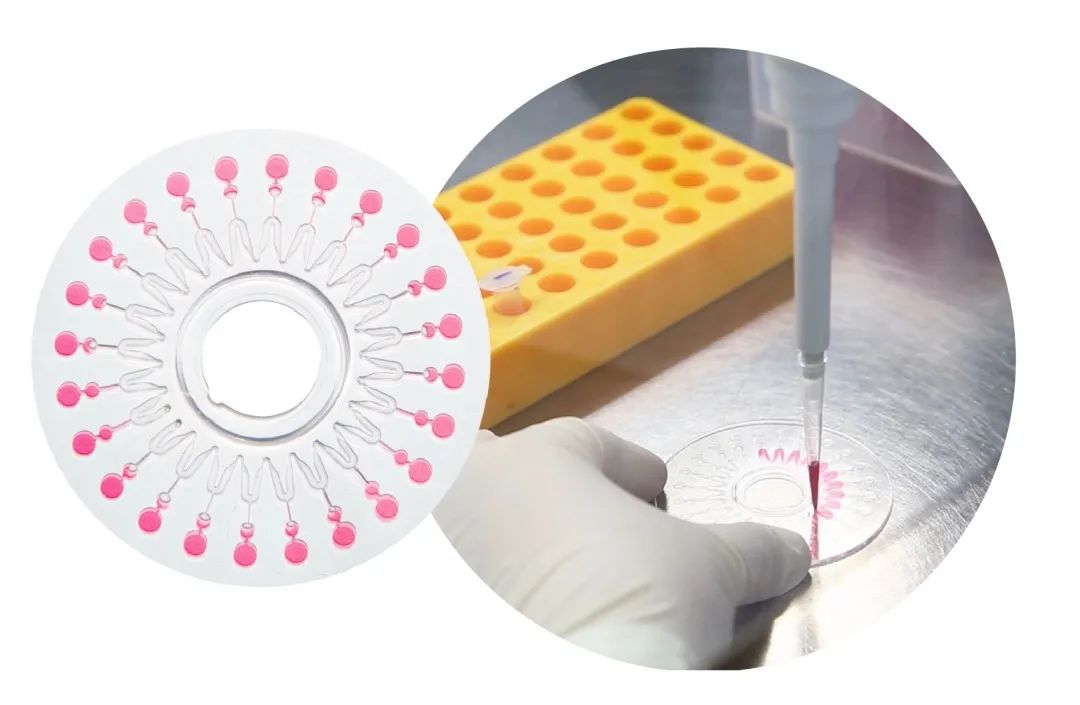 Tsinghua develops 8-in-1 smart solution for China and the world
Facing the outbreak of COVID-19, a cross-disciplinary team of Tsinghua experts, from the School of Clinical Medicine and affiliated hospitals, Department of Electronic Engineering, Department of Precision Instruments, School of Aerospace Engineering, led by Dr. Dong Jiahong, the executive vice-president of the Chinese Medical Doctor Association and dean of Tsinghua's School of Medicine, have developed a COVID-19 Intelligent Monitoring and Control System, integrating key technologies of big data, the Internet of Things, and artificial intelligence with clinical medicine.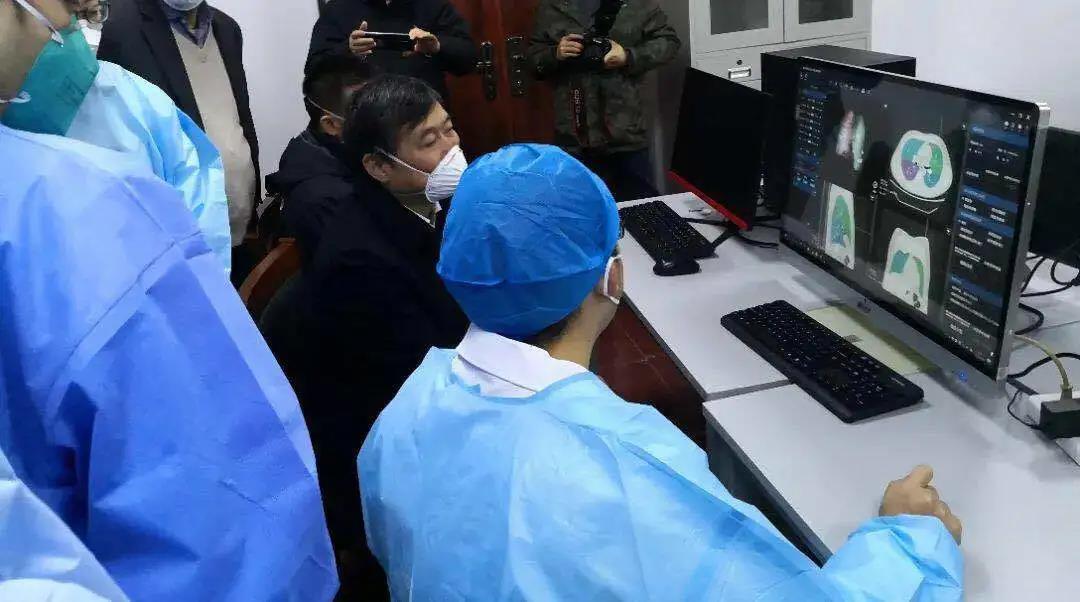 COVID-19 intelligent medical system
Professor Dong Jiahong led a medical engineering team that developed a COVID-19 intelligent medical system, using big data, IoT, and AI technology to create an integrated solution for community network monitoring for virus control, intelligent medical technology, and post-hospital patient monitoring. In late February, Tsinghua donated the proprietary COVID-19 intelligent control and prevention system to the Wuhan Municipal Government and medical institutions, which was entered into use at eight COVID-19 hospitals, one cabin hospital, and 72 quarantine zones.

Lin Borong and Liu Li's teams from the School of Architecture developed an online monitoring and early warning system for high density indoor environments for use in key treatment areas in the Huoshenshan and Leishenshan hospitals, Jinyingtan Hospital and two other cabin quarantine/severe case hospitals.

Li Bo's team from Tsinghua Shenzhen International Graduate School and Wu Hui's team from the School of Materials Science and Engineering developed a reusable mask using nanofiber materials, addressing mask shortages.

The teams from the Institute of Nuclear and New Energy Technology (INET) and CGN Nuclear Technology Development Co. Ltd. (CGNNT) developed electron beam irradiation as a substitute for ethylene oxide (ETO) to disinfect disposable medical protective clothing. This technology can also be used to treat hospital wastewater, which could be contaminated by coronavirus.
The team of Associate Professor Luo Haiyun from the Department of Electrical Engineering made new progress in the field of air disinfection for buildings. The newly developed electro-magnetic disinfection module can quickly and effectively kill many kinds of bacteria and viruses including COVID-19.
Professor Zheng Gangtie from the School of Aerospace Engineering researched a robot that patrols isolation wards, enabling medical professionals to monitor temperature and auscultation remotely, reducing risk to medical professionals. The robot is in trial use at facilities including Beijing Ditan Hospital.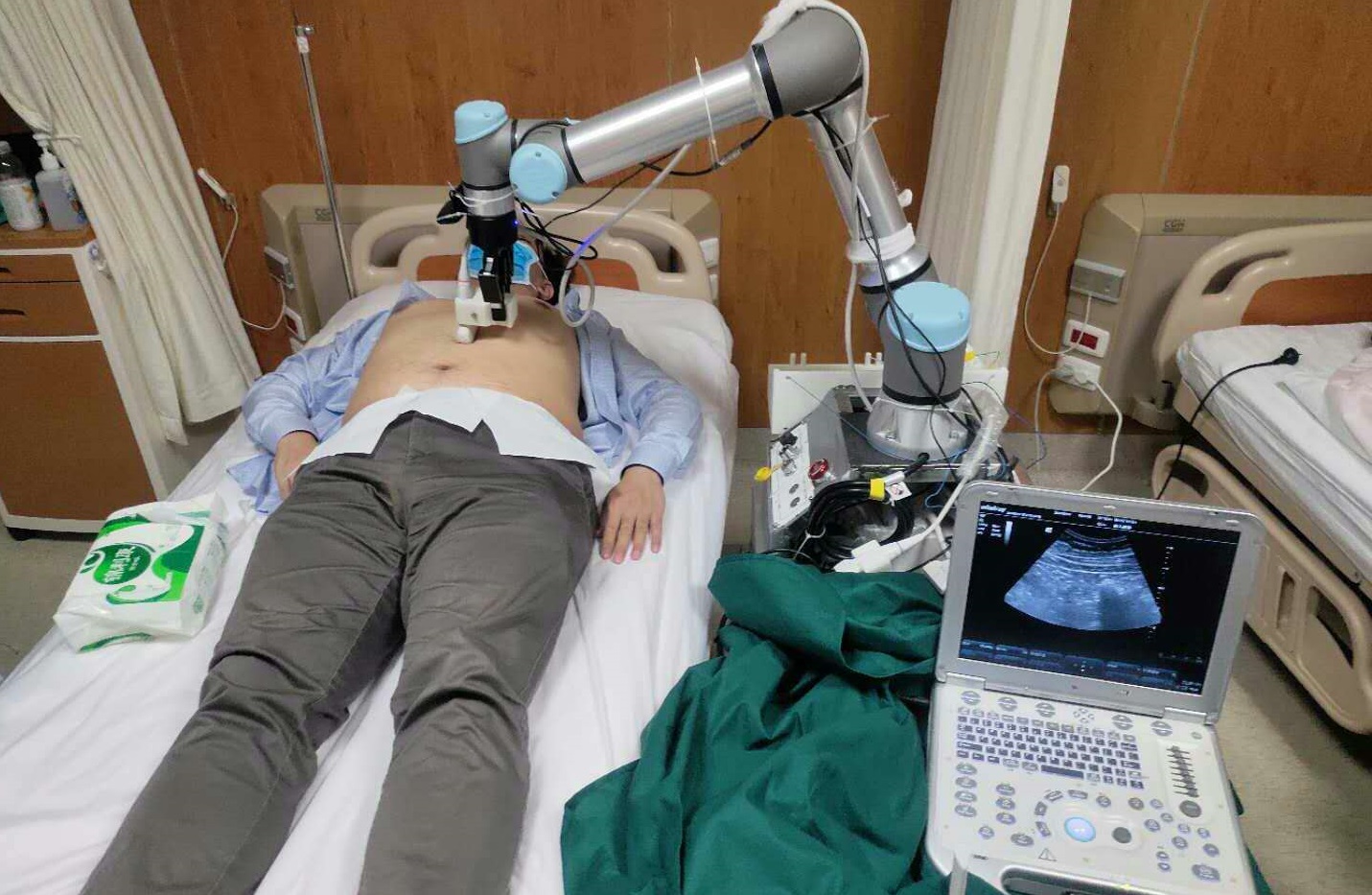 Professor Liu Xinjun's team from the Department of Mechanical Engineering has developed a robotic system capable of unmanned rapid temperature detection. The accuracy of temperature measurement reaches 0.2℃. This system can complete the temperature detection of the driver and passengers in a vehicle within 20 seconds, and can be applied to various scenarios such as highways, airports, checkpoints, and different entrances.